Feng Shui Tips For Placing Buddha Statues In Your Home
Esthetic Planners Blogs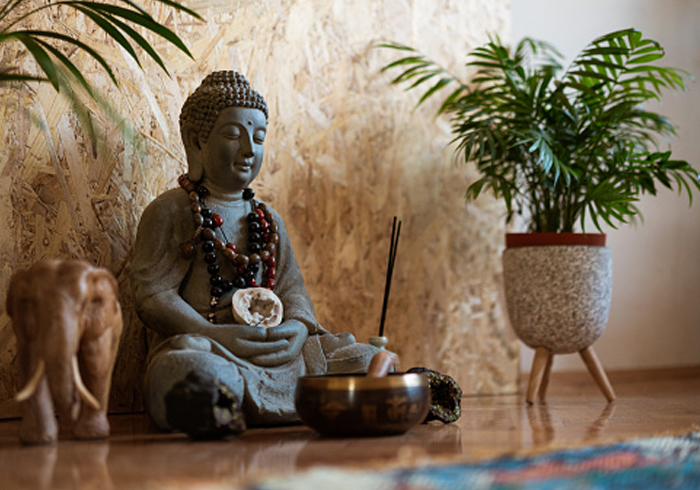 Your peaceful abode should represent what you believe. A Buddha is the epitome of peace and tranquilly. To create a good and peaceful atmosphere in your home, Vastu experts recommend putting a Buddha in it. We've all seen Buddha sculptures that may be used in a variety of ways and that are tastefully displayed in lovely homes. Placing the Buddha in various locations throughout your house, according to Vastu, can have an effect on your mental health and tranquilly. This is due to the fact that our living environment has a direct impact on our mental and physical well-being.
However, to ensure that you set the appropriate sort in the right position, pay attention to a few tips given below.
The Entrance Door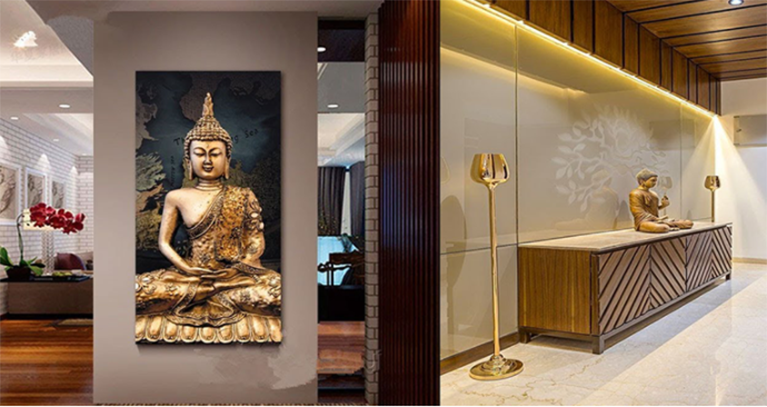 Placing a Buddha statue inside your home, facing the front entrance, not only draws positive energy or chi, but it also repels negative energies that bring evil into the house. It is preferable to place the Buddha image on a table or cabinet that is at least two and a half feet high, rather than on the floor or on a low stool.
The Living Room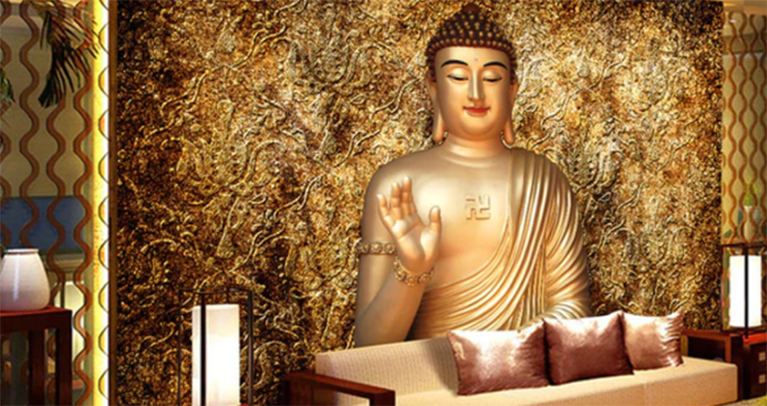 Placing a reclining Buddha to the right, facing west, can bring peace and harmony to your home, according to Vastu. Place it on a clean table or shelf to represent your inner beliefs and mental condition. People will be at ease when they see the serene statue and will regard you to be a peaceful person.
In The Garden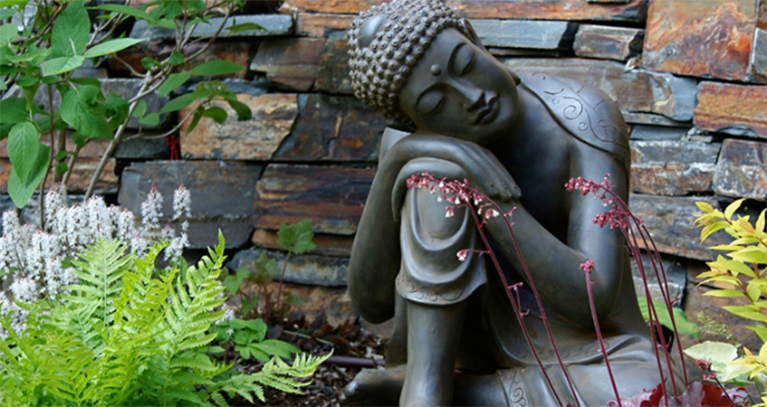 If you enjoy the sense of wandering through your garden on a quiet evening, installing a Buddha is a good decision. First, according to Vastu, select a meditating Buddha and install it in a tidy area of your yard. After that, you will feel more at ease and calm when strolling around your lovely garden. To achieve more inner calm when meditating, you can also use fragrant candles or sticks.
Meditation Room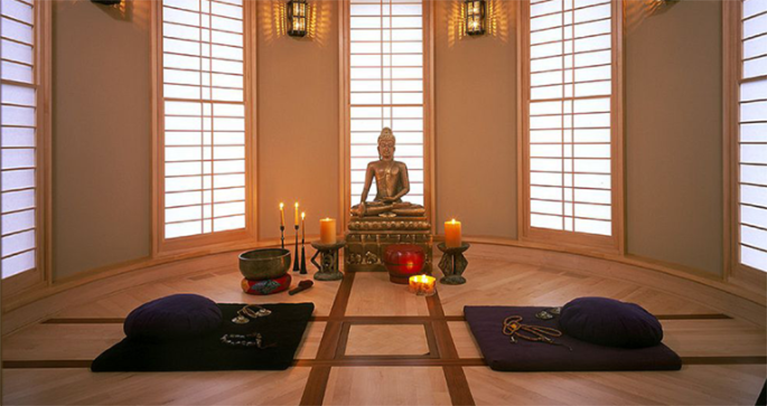 Many Buddhist put the meditating Buddha artifact in the chamber they pray. It emits pleasant and calming energy, allowing people to concentrate better. You can position it in the corner facing East, since it signifies endless wisdom and enlightenment. This will assist you in achieving peace of mind and maintaining the aura. In your pooja room, you can also install the praying and dedicated Buddha. However, keep in mind that putting the enlightened Guru below eye level is deemed unfavourable.
In Kids Room Or Study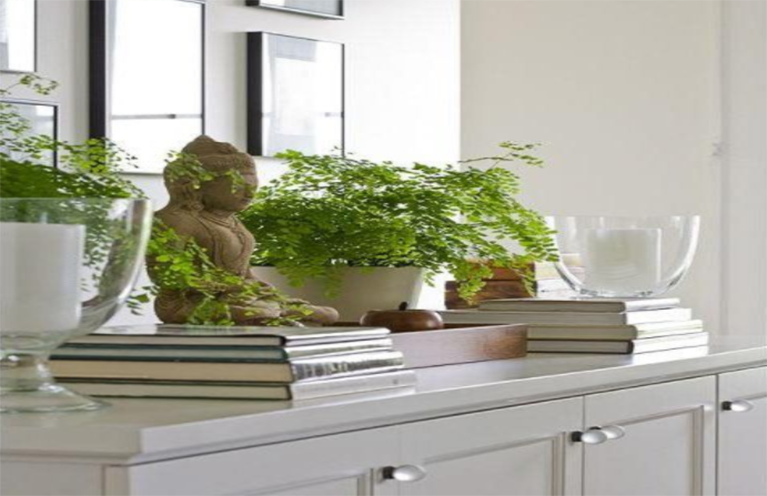 Different Buddha postures and gestures convey various messages. Put a tiny head of Buddha or a reclining Buddha in the corner of the table facing east to attain academic achievement.
Over The Dining Table or Wall Near The Main Entrance
This is the finest spot to display a hand-painted Buddha image. Hanging a picture will give your home a refined appeal and generate an air of serenity. On the internet, you may quickly choose a painting that you want to hang in your living room or over your dining table. However, according to Vastu, Buddha's artwork should always face inside the home.
On The Bookshelf or Glass Shelf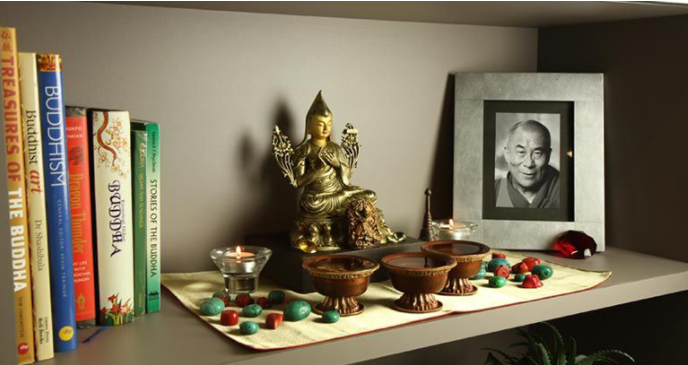 First and foremost, a smiling Buddha is not the same as Gautam Buddha. However, he also embodies serenity and pleasure and is an excellent item for minimalists. So, please arrange it in the east direction on your bookshelf to bring prosperity, laughter, and smiles into your home.
Wrap - Up
When it comes to Buddha idols, Feng Shui experts think that bigger is better. If you are uncertain about the sort of Buddha statue to purchase for your house, a smiling Buddha is a safe bet because it is said to bring happiness and riches into any home.