Interior Design Trends 2022: Top Looks From Esthetic Planners
Esthetic Planners Blogs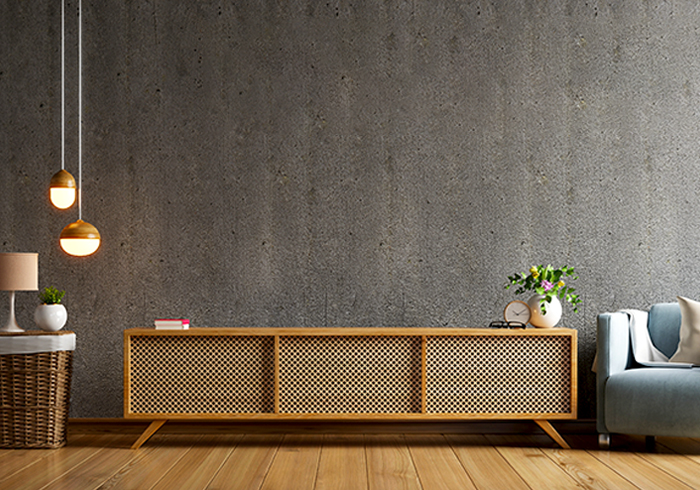 Interior design ideas 2022 are Instagram-worthy concepts that you'll want to replicate in your own home. This year, the design will become more at ease with current vogues that will last, a few oldies making a reappearance, and timeless classics keeping strong. With so many options, you'll be able to construct a house that is not only trendy but will also remain so for a long time.
Continue reading for our interior design cum landscape specialists' chosen selections of the best 2022 home decor and interior design ideas we know you'll enjoy!
1. Main Interior Design Trends 2022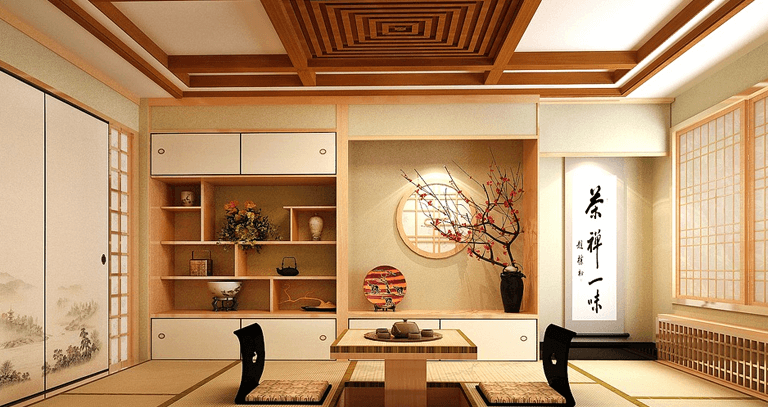 The emphasis on natural and sustainable interior design continues to increase from past years' interior trends. It's no surprise that their looks are growing more sophisticated and desirable. Furthermore, in 2022 interior design trends, we're witnessing a delicate fusion of vintage, natural, and zen aspects. Furthermore, the necessity of setting up home offices and preserving clean areas play a significant influence in preferred aesthetics.
Are you ready to upgrade your home with 2022 interior design ideas but don't know where to start? To get started with the, schedule your free interior design consultation with the best interior designers in Chandigarh- Esthetic Planners today!
2. 70's Retro Kickback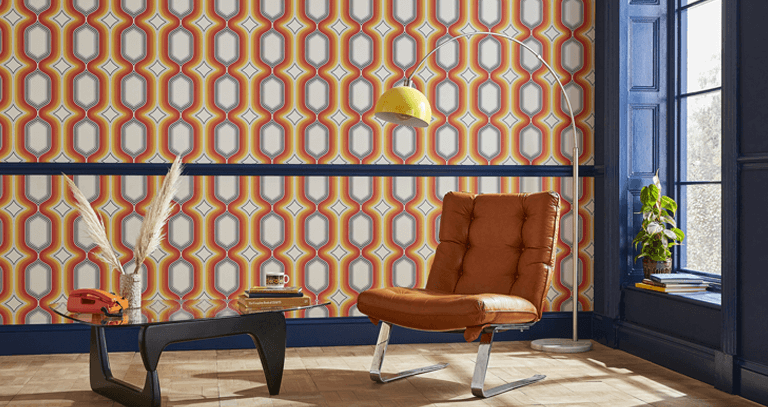 A dash of vintage is more than enough to liven up a room. Up-and-coming homes are brightened by subtle overtones of burnt orange, moss greens, and other warm neutrals.
Look for beautiful splashes of colour and patterns at your local flea market or repair an old couch.
3. How to Find and Save on Vintage Furniture & Home Decor Trends 2022?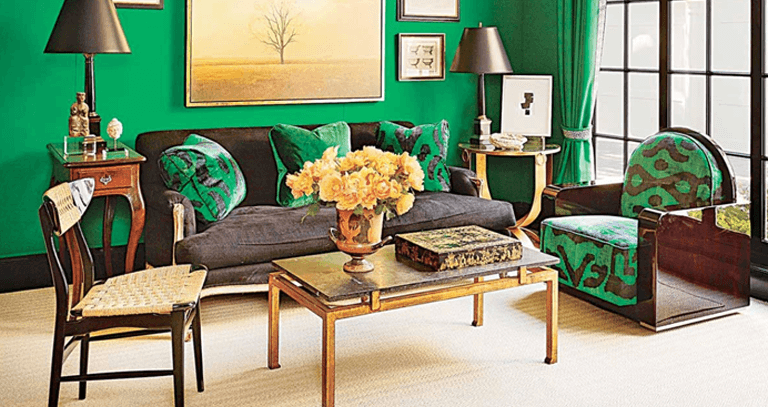 Next year, go the additional mile with your nature-inspired decor by incorporating genuine plants into your house. Plants will not only add to the natural woods and warm browns in your home, but they will also purify the air. Furthermore, witnessing your blossoms flourish gives you a tremendous feeling of pleasure and delight.
4. Best Plants for Pulling Off the Green Interior Design Trend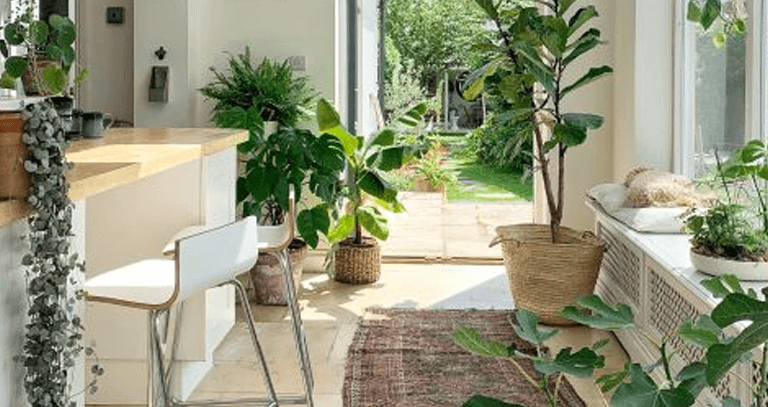 Always do your homework before purchasing your favourite plants. Some people will just fare better and be simpler to care for than others. Here are some of the greatest plants for interior design:
Sweetheart Plant: A flexible climber that thrives in semi- to fully-shaded environments.
Fiddle Leaf Fig Tree: Fiddle Leaf Fig Trees are hardy and elegant bushy trees that require sunny rooms and weekly watering.
Monstera: A huge plant family with distinctive cut-out-shaped leaves that thrive in low-light environments..
Palm: Another plant family with a vast range of large and tiny plants that thrive in partial sunlight.
Snake Plant: This plant is said to absorb negativity and thrives in oblique sunlight and with infrequent watering.
5. Multifunctional Spaces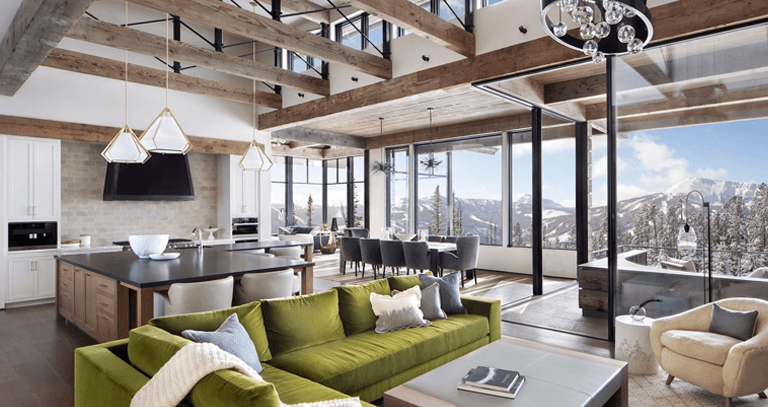 Single-purpose areas appear to be a thing of the past. In light of architectural advancements and design, we anticipate that interior design trends in 2022 will include clever concepts for multipurpose spaces. Utilize every nook and cranny with tidy and inventive room-dividing strategies.
Any given place contains a plethora of options. Many people overlook these because they overlook the vertical space that your room provides. Shelving, ladders, and platforms can be used to open various doors and even as room separators.
6. Zen Interiors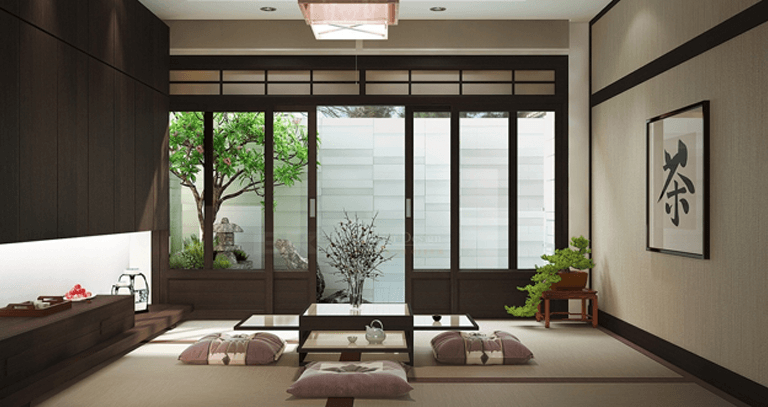 Displaying sustainable living in interiors has two functions. On the one hand, it highlights the clever and ecologically responsible design. This may inspire others to choose eco-friendly choices for their own houses. On the other hand, it reflects a clear and uncluttered mind.
Zen-living is defined by lightwood, clean lines, and floating surfaces. These rooms take a less-is-more approach to decor, keeping it organic and natural. Plants are frequently used in this context to provide a relaxing appeal.
7. Minimalism Remains
Minimalism, when done well, improves the livability of a room while having less creature comforts. It is simple to focus on basic day-to-day demands and activities when the core purpose of a place is highlighted. Having said that, decluttering must be a daily practice in such a home.
Stick to one or two basic materials for furniture, such as wood or steel, to obtain a simple aesthetic, and keep decoration to a minimum. Different textures and contrasting surfaces can be used to provide visual appeal.
8.Home Office Interior Design Trends 2022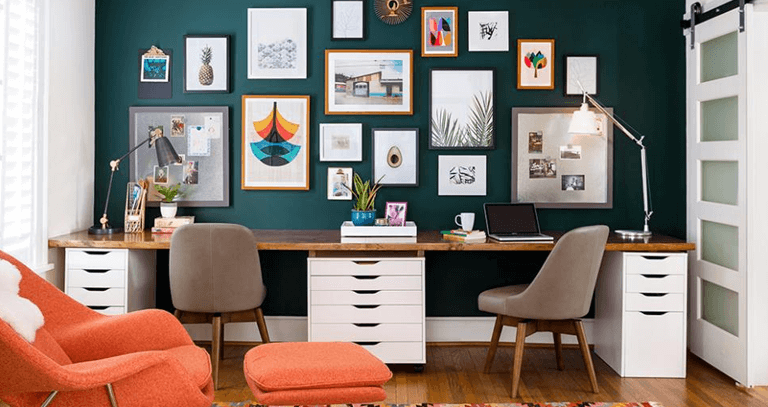 There is a surge of interest in designing the ideal home office. Home offices come in different forms and sizes, from a large area with everything you need to a fold-away desk in the living room. Whatever the appearance, the goal is to make your space function for you. When creating your own workplace, remember that usefulness, practicality, and aesthetics are all equally essential.
9.Things to Consider for a Home Office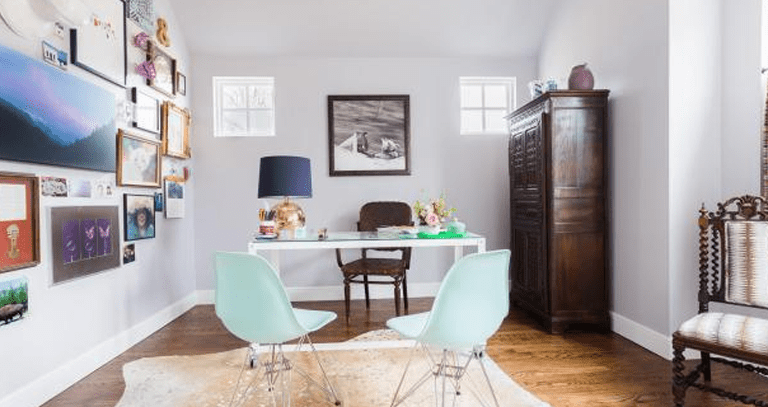 Whatever the design, shape, and size, your home office will require a few essentials to function as a productive place. So, while incorporating the workplace trend into your design, keep the following considerations in mind.
Location: A workstation should ideally be in a calm section of your home. If a whole room is not available, a foldaway desk in a guestroom might suffice.
Equipment: Include everything you need to work productively while avoiding anything that will just clutter your area.
Storage:A home office must be organised, and having enough storage can help keep things tidy and in their proper position. Choose attractive containers that may also serve as decoration.
Colors: Colors that soothe and focus the mind, such as mild blues, greens, and neutrals, should be used. And avoid very bright hues that are energizing as they can lead to restlessness.
Decor:Keep decoration to a minimum to stay focused. You can include wall art, striking shelving, plants, and fun rugs to save space.
10.Sustainable & Organic Materials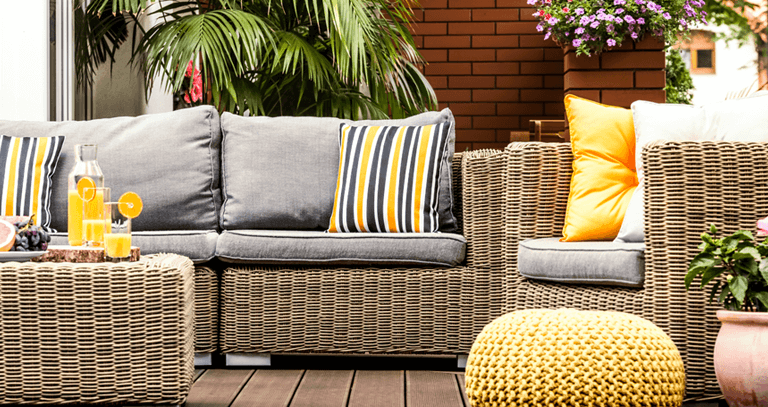 In 2022, home décor trends will emphasise the use of glass. Glass may be celebrated in a variety of ways, including walls and huge pendants. With this in mind, try to mimic nature by eliminating as much plastic as possible..
11.Create Eco-Friendly Interior Design Trends 2022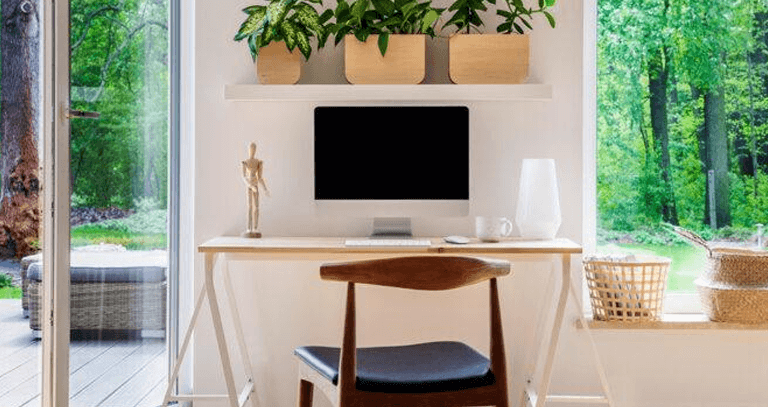 ISustainability is popular, yet it is a long-term strategy to greener design. Here are some things you can do and add in your house to make it more environmentally friendly:.
Choose an energy-efficient design that eliminates the need for appliances, heating, and lighting.
Select eco-friendly materials that have been recycled, repurposed, or come from approved sustainable sources.
This is a broad category that includes recovered wood, bio-glass, recycled metal, and jute.
Use only green finishes. Choose paints labelled "non-toxic," "low-biocide," or "milk" to reduce your environmental impact.
12.Rounded Edges
Curvy furniture design trend has not only survived but thrived in the face of the epidemic. Softer-edged furniture and décor are both feminine and forgiving. The first can better match angled objects while also adding a romantic sense to a room.
Rounded furniture is another modern legacy that is making a comeback. However, this time around the curve includes everything ranging from soft-edge tables to reinvented modern chairs in addition to opulent C-shape couches. These softened shapes add a sense of lightness and romanticism to spaces.
13.2022 Interior Trends: A Velvet Invitation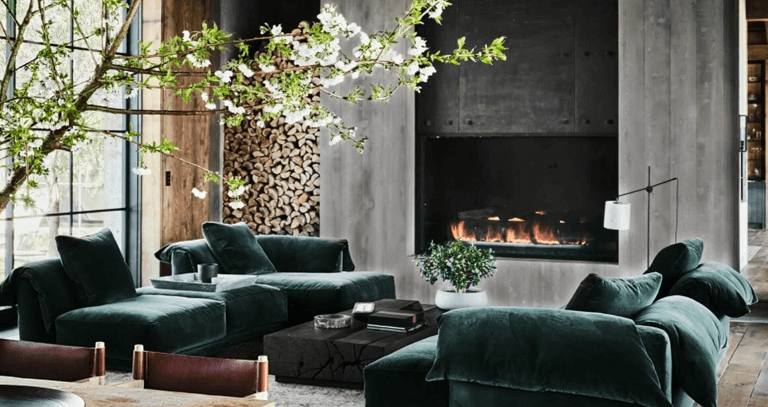 Textiles can also be used to support softer forms. Velvet, for example, is a soft material that can quickly transform a space. It is unquestionably a welcoming fabric for living areas and bedrooms. Allow your velvet to speak for itself with a single bright hue, or muffle it with tiny subtle accents. Feel free to add metal accessories or smooth scatter cushions to contrast the softness.
Moving away from maximalist designs, velvet will add a sumptuous touch to sophisticated and restrained homes. This soft material is likely to look equally at home in minimalist and organic settings. As a result, this modification will provide warmth to designs that could otherwise feel chilly or unwelcoming.
14.Smarter Furniture
As previously said, there is a significant trend toward multipurpose rooms. It's no surprise that furniture design follows suit. After all, the flow of a house is heavily influenced by the materials that make up its construction. And it's much better if you can accommodate intimate social events as well as reading corners in the same place.
Smart furniture often comprises pieces with integrated technology or those are designed with functionality in mind. Accent tables, for example, can hold speakers and controllers, while remote-controlled bookshelves can glide out to display a television. Multi-cornered sofas, sculptural storage and surfaces, and speakers that act as décor are also fashionable.
15.Floor Pattern Nostalgia
Herringbone floors are another replay of the hottest trends of the modern era. Not only these, but many geometric patterned floors are making a come-back in home decor trends of 2022. In order to pull off a large-scale pattern, stick to a neutral color palette to let the shapes do the talking.
16.Basic & Natural Colors
A neutral colour basis provides a plethora of options for your house. In fact, adhering to basic colours ensures that you always have a forgiving canvas. Choose paint hues that will make your raw materials feel at ease. Consider stone greys, blackened blacks, and off-whites.
17.Shades of Green
For 2022 interior design trends, we anticipate subdued contrasts. Greens in pastels or tinted colours, for example, invigorate a space without overpowering it. A little splash of colour can be added with a shade of green rising from your natural background.
18.Interior Trends With Black Accents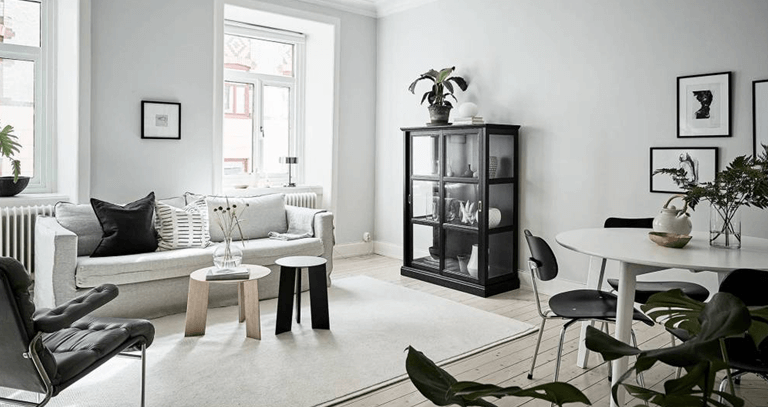 Here we can see the true benefit of establishing a neutral basis. The interior design colour trends for 2022 are taking black to its logical conclusion. Black accents, even in little amounts, are bold and strong.
19.White Walls
Mid-century modern style is evocative of white-on-white with tapering lines and delicate textures. If you want striking furniture and bold finishes, go with basic white walls. When decorating with raw materials, use all-white instead. This will draw even more attention to these works.
20.Light Floors
Light flooring can help to bounce light throughout the space, allowing natural light to shine brightly. It contributes to a more simple design, especially if you want to show off a few brighter hues. Warm it up with soothing textures and your favourite hand picked artwork.
21.Painted Trims and Doors
Fill in the blanks with statement doors and trimmings. You don't require much. In fact, leftover paint may be plenty to make a focal point entryway. This is an excellent method to incorporate colour into your interiors and exteriors without introducing any new hues.
22.Contrasts that are inverted
Adding a contrasting colour to a design is a common way to achieve balance. These grounding pops may now be found in locations that were previously overlooked — flooring, trims, and fixtures. We're seeing a trend toward lighter furniture and walls, as well as darker ceilings, flooring, mouldings, and hardware.
23.Make Your Home Trendy for 2022
Feeling inspired to construct the home of your dreams with 2022 interior design trends, but unsure how to achieve the looks on your own? Then, schedule your Free Interior Design or Landscape Consultation today to begin working with the best landscape and interior designer in Chandigarh!